Maritim King's Island Luxor Resort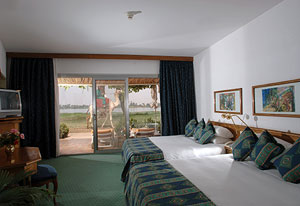 The unique resort is nestled amidst spacious landscaped gardens on a 630,000 sq.meter privately owned island in the River Nile. The Kings Island is connected to the mainland by one road and only one bridge, and is virtually free of cars. This makes the resort to an ideal location for any one seeking peace and tranquility from the hustle and bustle of the modern world, and especially for families with kids, ensuring safety and plenty of space for play.
The expansive facility consists of the main building, a large swimming pool area, and the bungalow accommodation spread throughout the gardens.
There are 326 rooms and suites in 21 bungalows, all equipped with hairdryers, air conditioning/heating, telephone, SAT-TV, safe, refrigerator and coffee and tea making facilities.
Dining
Jolie Ville Restaurant (International Buffets)
The Jolie Ville Restaurant offers guests an unparalleled dining experience, with experienced chefs preparing themed buffets from around the world.




La Fleur a la Carte Restaurant
Enjoy romantic dinners or casual dining in this cozy restaurant, offering international gourmet meals and specialties.


Shehrazade Terrace
Breathtaking views of the Nile and the West Bank captivate guests on the Shehrezade Terrace. Enjoy snacks, pizza, pasta, sandwiches and traditional Egyptian dishes in this spectacular setting.



Pool Terrace
The Pool Terrace, located by the Infinity Pool, is home to our BBQ by the Pool nights.
Entertainment

Kings Bar
The right place to be, and to be seen. Watch life passing by as you sip on delicious cocktails, international beverages, and much on tempting snacks.



Fellah's Tent
Traditional Arabian delights and entertainment in Fellahs Tent capture the imagination. Also available for typical events for up to 400 participants.
Leisure and Recreation
A wide range of recreational activities are offered, including swimming pool, Kids Club, 2 tennis courts with floodlight, football, volleyball, table tennis, billiards, fishing and bike rental. There is an excellent 18-hole championship golf course nearby (More Info...).

| | | |
| --- | --- | --- |
| Swimming Pool | | Swimming Pool |
| Infinity Pool | | Kid's Pool |
| Massage | | Shopping |
| 2 Tennis Courts | | Football (Soccer) |
| Volleyball | | Jogging Track |