Mövenpick Resort Petra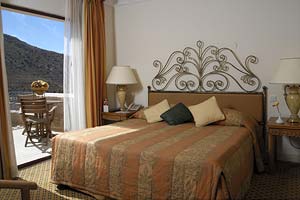 Located right at the entrance to Petra site, the luxurious Mövenpick Resort Petra with its authentic antiques and artworks is certainly one of the most notable hotels in the Middle East.
Featuring an oriental architecture and intricate design, the Mövenpick Resort Petra surprises even the most discerning travelers with some of the most magnificent inlaid marble works and finely handcrafted oriental wood decorations.
The resort offers 183 rooms and suites, wellness centre with pool, steam bath and gym, plus 7 restaurants, lounges, and bars, serving the famous Mövenpick quality of food and beverages.
Dining and Entertainment
Al Saraya Restaurant
Al Saraya is the main restaurant, featuring buffets and an à la carte menu.The famous Mövenpick breakfast buffet is served daily along with Mövenpick and international classics for lunch and dinner, not forgetting delicious Mövenpick ice-cream creations.




Al Iwan Restaurant
If it is a rich and lavishly prepared dinner guests are looking for - the award winning Al Iwan Restaurant is the place to be. With marble fountain and luxurious decoration, Al Iwan's serene ambience and Mediterranean culinary delights are the ingredients from which enchanted evenings are made.


Al Maqa'ad Bar
With a Lawrence of Arabia theme, the decoration inspired by the tales of the Arabian Nights, the atmosphere in this attractive bar is luxuriant and welcoming. Whether for an afternoon snack, or an evening cocktail, the Al Maqa'ad Bar should not be missed.



Al Baraka Tea Room
With a Lawrence of Arabia theme, the Al Baraka Tea Room is open during the winter and serves afternoon tea, light snacks, refreshments and a variety of enchanting alcoholic or non-alcoholic beverages.
BBQ Dinner Pool Area
Special events can be arranged around the generously sized outdoor swimming pool depending on the weather.
Features and Activities