Mena House, Cairo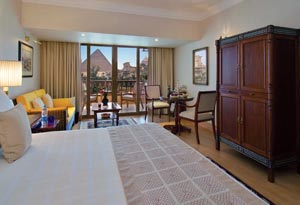 Mena House lies in the shadow of one of the wonders of the world, the Great Pyramids at Giza. Surrounded by 40 acres of scented gardens, this historic palace hotel is only 700 meters from the towering Pyramid of Cheops. The hotel was built in 1869 and since that time has been welcoming visitors to Cairo, drawn here by the rich heritage of mosques, churches and temples. Modern Cairo is an exciting and vibrant place, bustling alongside its priceless heritage of art and architecture.
The old Palace of Mena House has exquisitely crafted interiors in traditional style with filigree fretwork and intricately carved panelling, fine murals, gilding, inlaid mother-of-pearl and handcrafted mosaic tiles. Furnished with original works of art and antiques, the interior is that of a royal residence not a hotel. Outside, the palace blends into its historical setting with its towers, domes, minarets and colonnades set among palms, bougainvillea and jasmine - an oasis of luxury in the desert landscape.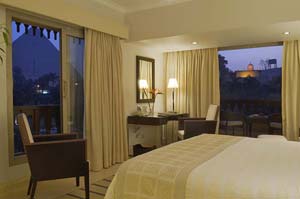 Mena House has rooms and suites in the Palace and Garden wings. All guest accommodation at Mena House is air conditioned with private bathroom. Rooms and Suites are lavishly appointed with traditionally inspired furnishings and rich carpets. All Suites in the old Palace section feature beautiful traditional detailing, murals, screens, panelling, gilding, fine upholstery, original wooden balustrades and arched windows. Guests in the Suites enjoy the privilege of private butler service and 24hr in-room dining.
Palace and Garden In-Room Services & Amenities:
Cable network, Wired or wireless internet access, Electronic in-room safe, Multi-line telephone(s) with voicemail, Refrigerated private bar, Dining table & Coffee table, Make-up mirror & Hair dryer, Thick terry bathrobes, Down pillows (Hypoallergenic pillows on request) Complimentary tea/coffee making facility, 24 hour in-room dining, Twice daily housekeeping service, and Complimentary shoe shine service.
Dining and Entertainment
Khan el Khalili
Savor the finest of Egyptian and Middle Eastern cuisine at the shadow of the pyramids

Lunch from 1:00 p.m. to 3:00 p.m.
Dinner from 7:30 p.m. to 10:00 p.m.
Dress code: Casual.




Al Rubayyat
Offers a continental menu in majestic surroundings. The palace restaurant features high carved wooden ceilings, huge arches, ornate brass lanterns, and fretwork galleries. With live entertainment.

The Moghul Room
Cairo's celebrated gourmet Indian restaurant. Purely Indian, truly exotic.

Lunch from 1:00 p.m. to 3:00 p.m. (Friday only)
Dinner from 7:30 p.m. to 11:00 p.m.
Dress code: Casual






The Sultan Bar
Sip a perfectly poured cocktail from your perch overlooking the Pyramids, a bar inspired by paradise itself.


139 All-Day Dining Room
139 our all day dining room with something for every taste. Set with informal, intimate seating arrangements, and breathtaking views of the pyramids and the landscaped gardens. The menu ranges from Middle Eastern to Indian classics, pan Asian and Western cuisine.

Open for breakfast, lunch and dinner
Dress code: Casual


139 Terrace
Picturesque Pyramids and landscapes garden from 139 terrace create an unmatched outdoor atmosphere for fine dining in Cairo. Enjoy our classic Afternoon tea, our selection of snacks and Sheesha corner.

Open from 4:00 p.m. to Midnight.
Dress code: Casual





139 Lounge
Meet up for drinks or aperitifs at 139 lounge Bar. Indulge in the contemporary atmosphere, the breathtaking views of the pyramids in the background, our exquisite snacks and an extensive beverage menu, making it the perfect stop before a night out, or maybe just a night cap.

Open from 4:00 p.m. to Midnight.
Dress code: Casual


Alfredo
Poolside Italian Restaurant. Alfredo offers authentic Italian homemade food with a strong emphasis on farm fresh ingredients.

Lunch from 12:00 p.m. to Sunset
Dress code: Casual
Features and Activities

Swimming Pool
The single depth, 33.3 meter lap swimming pool at Mena House is set in landscaped gardens. For the convenience of our guests, the pool is heated during the winters. Alfredo restaurant serves light meals and refreshments through the day. The pool is open from 8:00 a.m. to sunset.




18-hole Golf Course
There is an 18-hole course right on the doorstep, with distracting views of the pyramids. Mena House is the only hotel in Cairo with its own golf course.
More Info...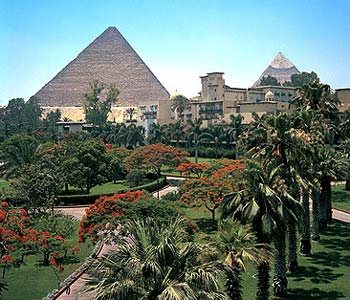 The Minigym is open 24 hrs a day. De-stress and tone up here on the Exercycle, Fit Cycle, Multigym, Steppers and Treadmills. The use of all gym equipment is free to hotel guests.
Horseback and Camel Riding are available at the stables. The most romantic way to visit the Pyramids.
Outdoor tennis courts and a jogging track will also help to keep you fit.