Le Meridien Cairo Airport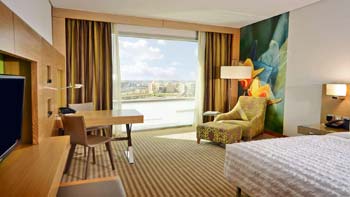 Stay connected at Le Meridien Cairo Airport with direct access to Cairo International Airport terminals and the first non smoking hotel in Cairo. The Hotel is located a few steps away of Terminal 3 of Cairo International Airport through an interconnecting bridge allowing you to walk straight from your plane into this sophisticated modern place.
Le Meridien Cairo Airport, one of SPG Airport Collection, is rated as an exceptional five star hotel accommodation with a new perspective on the city. The hotel embodies a chic, contemporary setting with views overlooking the runways & Cairo, the city that never sleeps.
Le Meridien Cairo Airport offers 66 club floor rooms with a dedicated club lounge, 264 deluxe rooms, 9 executive studio suites, 9 panoramic deluxe suites and 1 presidential suite. All rooms and suites are fully soundproofed and feature Le Meridien signature bed. The refined and modern design creates a perfect, relaxed experience. A combination of complimentary WIFI and cable connection coupled with the latest technology makes it easy to conduct business if necessary.
Dining and Entertainment
Indochine Restaurant
Indochine highlights the ethnic cuisines from Singapore; a classical mingling of Chinese, Malay & Indian style cuisines with some European influences. The concept is developed to serve the most cosmopolitan culinary experience from South East Asia without neglecting its roots.

Open for lunch and dinner




Mediterranean Restaurant
Open 24 hours a day, for breakfast, lunch and dinner. Enjoy sumptuous themed buffets with an array of fabulous dishes stretching along the Mediterranean region supported with a full a la carte menu to choose from.



LIVE Sports Bar
The Sports bar as an entertainment, dining and drinking venue will become the premier bar and diner East of Cairo serving the largest variety of beer, wines and spirits with great music.


Lobby Lounge

EVOO (Extra Virgin Olive Oil)
A contemporary interactive restaurant at Le Meridien Cairo Airport and is inspired by the Mediterranean region and local cooking through an elegant melange of traditional flavors and contemporary demand for freshness and balanced nutrition. The cuisine orchestrates specialties and culinary diversity of the various countries of the Mediterranean.
"Mezzeh" Lebanese Restaurant
The Lebanese restaurant showcases the unique Arabic cuisine from the Levant with infusions of the local cuisine. The ambience is informal yet elegant with contemporary decor and natural finishes. The restaurant is modern and elegant with clean finishes using wood, glass and stone. Simplicity, authentic recipes, selection of the best ingredients, innovative presentation ensures creative cuisine like one would find in the Lebanese capital the elegant mix of modern brasserie and cafe developed over centuries and reinterpreted by the modern culinary avant-garde.
Le Meridien Hub
This modern and social area combines two bars, the Latitude Lounge Bar and the Longitude Coffee Bar. The first impression of food and beverage service in the hotel focuses on the great illy coffee culture during the day whilst transforming into a wine bar atmosphere in the evening and night time.
Splash Pool Bar
This fun pool drinking and snack venue will serve cocktails, hot & cold beverages throughout the day, supported by an international Bento Box style snack menu covering breakfast through to late afternoon.
The Asian Whiskey Bar
The Asian whiskey bar as part of the Asian restaurant is an exclusive and unique drinking spot serving the largest variety of Asian and International whiskies and spirits seen in Cairo, within a modern and fashionable environment.
Features and Activities