Helnan Auberge Fayoum Hotel
Since its founding in 1937, the Auberge Fayoum Hotel has been host of official banquets for the royalty, heads of state, and celebrities. The Auberge was initially built as a hunting lodge by King Farouk who mainly used it as hospitality for his hunting expeditions and parties. Due to its convenient location in the Middle East and close to Egypt's capital, Cairo, the Auberge has in many years been a favourite retreat to many famous personalities, political figures and other prominent guests, and has witnessed several international treaties, meetings, and conventions.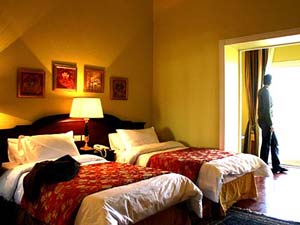 Helnan Auberge has maintained the old port on Qaroun Lake, also built in 1937 by King Farouk, where activities such as fishing, boat sailing and windsurfing can be attended. The wonderful lake represents one of the most beautiful hunting areas in the Middle East. In this unspoiled Egyptian countryside visitors can enjoy themselves at the golden sandy beaches, or explore the "Valley of the Whales" which once was the bottom of the sea but today is dried out, where skeletons of shells are lying in the desert sand.
With large investments and an experienced management team, the hotel is today restored to its classic style with modern facilities including newly renovated rooms and suites, banqueting and convention centre, restaurants, bars, swimming pool, health centre, garden, fishing pier, and parking.
Luxuriously appointed & tastefully furnished assuring the ultimate in comfort , tranquility , convenience & service with 70 spacious suites & rooms , tastefully decorated you will be assured of the maximum comfort and relaxation . You can make choice from a great variety of rooms with different view of the marvelous lake & pool view . If you're seeking tranquility & peace we can offer our quiet, pacific garden view rooms for more relaxation.
Dining and Entertainment
| | | |
| --- | --- | --- |
| Churchill Lounge | | Ballroom |
Features and Activities
Banqueting/Convention Center
Restaurants
Bars
Swimming Pool
Health Center
Garden
Fishing Pier